Acura Brake Service | Harmony Acura in Kelowna

Equally important as your new Acura vehicle running smoothly is its ability to stop smoothly. Keeping your brakes maintained is an important part of your safety as you drive around the Kelowna area. At Harmony Acura, our certified technicians can inspect and replace brakes when needed so that you feel confident on the road. Read all about the maintenance we offer, then make an appointment or visit us today!
Our Service Facility
When you bring your vehicle in for brake service or other maintenance, you can rely on our trusted Certified Acura Technicians working in our state-of-the-art repair facility. We carry Genuine Acura Parts to ensure you have the best quality repair possible, and our waiting lounge includes complimentary refreshments and iPads for your entertainment. We also provide complimentary shuttle service if you prefer not to wait.
Brake Maintenance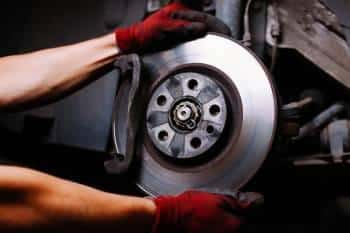 Brakes are composed of a number of working parts to bring your vehicle to a complete stop each and every time you need it to. Over time, various parts begin to wear down, and your stopping ability is compromised unless you stay on top of having these parts replaced.
Acura Genuine Brake Pads are designed with high-grade materials to be both durable and long-lasting. A common indicator that your brake pads need to be replaced is when you hear a squealing sound when you come to a stop. Our genuine brakes help keep down noise and vibration that gives your Acura model its signature smooth handling. Your brake indicators may make a screeching sound when it's time to have them replaced, too.
About Your Brakes
Brake rotors ensure that your brakes don't overheat and warp so that they stay in the exact shape that gives them the ability to perform under pressure. Acura Genuine Brake Rotors are specifically designed to withstand the task of dissipating heat over and over again for longevity that you can count on.
Brake Fluid is essential to the performance of your brakes. You may be running low on brake fluid, which indicates a leak or that your brakes are in need of replacing. Even when you are not running low, you may need your brake fluid flushed from time to time or optimum performance. We use Acura Heavy Duty Brake Fluid DOT 3 as recommended to give your brakes the longest lasting life.
Have Your Brakes Checked Today
Visit us at Harmony Acura to have your brakes inspected today. You'll find us at 2552 Enterprise Way in Kelowna, BC, near Penticton. If you have any questions, please call us at 250-861-3003. You can schedule an appointment online, or just drop by during our open hours to have a technician take a look today. Don't wait on something as important as your brakes!